Capps Manufacturing heat treating furnace (Despatch) allows us to handle aluminum material sizes as  large as 60″ wide x 198″ long x 156″ high.  It can also be used for solution age hardening and partial annealing of aluminum as well as stress relieving.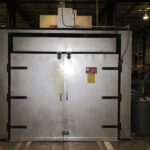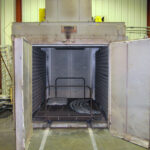 We have four age ovens that allow us to age many aluminum alloys.  Age hardening of aluminum sheet is   restricted to the following work zone measurements:
Gehnrich – 60″ wide x 360″ long x 96″ high
OSI – 70″ wide x 90″ long x 72″ high
Depatch (2) – 34″ wide x 36″ long x 35″ high
Our ovens are certified to run parts per AMS 2770, BAC5602, AMS-H-6088, CSMP003, C-0521, MPS168-07, LES1051, GAMP5108  and multiple other customer specifications.